Patti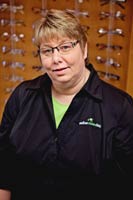 Patti is our Optical Manager and has worked for Madison Vision Clinic for over 25 years. She is a life-long resident of Madison, graduating from Madison High School and Dakota State University. She is married to husband, Greg, and has two sons, Jacob and Adam. Outside of work, she enjoys walking, camping, and spending time with her family.
Patti has great optical knowledge and is happy to assist patients in their frame and lens selection. She can educate you on the latest in lens technology as well as show you the newest trends in eyewear.
Shelley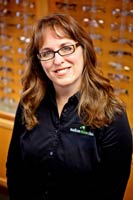 Shelley is our Billing and Insurance Manager and has worked in the optometric profession since 1992. She is also a life long resident of Madison, married to husband John, and has one son Evan. Outside of work, she enjoys hiking, nature, reading, Zumba, and spending time with family and friends.
Shelley enjoys assisting patients with any billing questions and can answer questions you may have about insurance coverage. She is also able to coordinate financing through Care Credit and coordinates referral appointments for cataract surgery, ophthalmological consultations, and corrective eye surgeries such as LASIK or PRK. She has experience in adjusting and dispensing eyewear, contact lens instruction, and conducts special medical testing such as retinal photography and perimetry.
Lindsey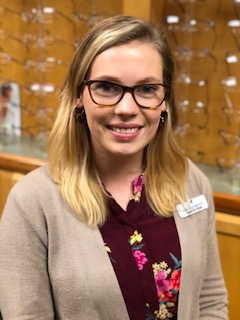 Lindsey is the Optometrist's Assistant. She will be the smiling face that will seat you to see the doctor, update your current information, as well as run a variety of tests such as auto-refractions. Lindsey also helps assist patients with picking out glasses and doing adjustments.
Lindsey was born and raised by her parents Amy and Jason Bohl in Garretson South Dakota. She is the oldest of four siblings: Macey, Carmen, and Preston. She spends a lot of her free time going to different sporting events and activities of her siblings. In 2015 Lindsey moved to Madison from Marshall, Minnesota to be closer to her family. She is currently living with her fiance, Taylor Bloom, dog Phoebe and cat Chester. For fun Lindsey enjoys working out, cooking, reading, hiking, traveling, and yoga!